Program Partners
The Folk Americana Roots Hall of Fame is dependent on the support of our program partners for their contributions to our exhibits. These contributions have been invaluable in helping us to create an iconic Hall of Fame experience. We are deeply grateful for their support and look forward to continuing our partnership into the future.

The Museum Collective is a consortium of music museum professionals that creates special exhibitions and programs for museums and cultural institutions around the country and Europe. The partners in the Collective have collaborated on a variety of exhibits over the past decade, with the most recent exhibit "Woody Guthrie: People Are the Song" debuting in 2022 at the Morgan Library in New York City. The Museum Collective's Deana McCloud is the curator of all current and upcoming exhibits at the Folk American Roots Hall of Fame.
Deana McCloud is a co-founder of the Museum Collective, and a partner in the Folk Americana Roots Hall of Fame in Boston. From her career as the Founding Executive Director and Chief Curator of the Woody Guthrie Center and the former curator of music and programs for the Woody Guthrie Folk Festival, she brings a broad scope of knowledge about music history to honor the past, celebrate the present, and nurture the future. A former educator, McCloud serves on a variety of boards supporting social justice initiatives, musicians and the arts.

David Bieber and his archives represent 50-plus years of collecting and preserving the popular culture, music, and media of the 20th and 21st centuries. David has acquired more than two million artifacts, building a collection ranging from vintage vinyl to antique radios, movie memorabilia to original Andy Warhol art, posters to press kits, baseball cards to bottle caps, always believing that the transitory creations of today are the treasures of the future.
Following business studies at Miami University and public relations at Kent State, he received a Master of Journalism degree from Boston University. While in college, he reported for Billboard magazine, interviewing dozens of entertainers, from Ray Charles and Louis Armstrong to Frankie Valli and the Four Season and Johnny Carson.
A Boston music and media veteran, David's career spans four decades, including positions as Creative Services Director at the groundbreaking WBCN-FM for 16 years, Director of Special Projects at the Boston Phoenix/WFNX-FM for 19 years, as well as Music Director at WBUR-FM and freelance contributor and consultant to the Smithsonian Museum, Rolling Stone's Illustrated History of Rock and Roll and the Boston Globe.
Lance Salerno started in radio as a Producer/DJ before turning to TV commercial/promo production as an Art Director and Production Designer, creating spots for ESPN, Siskel & Ebert, CNN, ABC-Sports, CBS News, TBS and the Discovery Channel.
In 2000, he joined creative agency BIG BLUE DOT, a leader in kid-centric branding, strategy and design for all media, as a Designer, Project Manager, and Creative Director. His clients included PBS Kids, Disney, Nickelodeon, Hasbro, Cartoon Network, Ringling Bros. and Barnum & Bailey Circus and National Geographic. More recently, as a freelance Art Director, Lance worked on projects for such companies as HBO, Cinemax, HGTV, the History Channel and Bose.
Also in 2010, Lance partnered with the Newport Folk Festival to establish their first dedicated Family Stage. Considered one of the "hidden gems" of the fest, he produced and managed that stage from its inception through 2014, showcasing sets by Pete Seeger, Nickel Creek, Sarah Lee Guthrie, Amy Helm, Andrew Bird, Hurray for the Riff Raff and Connor Oberst, among others. With art, music, pop culture and entertainment at his career core, Lance has his hands in all aspect of the Archives.

Alan LeQuire is a sculptor who has become well-known for his public commissions and sensitive portraiture. He works in virtually all sculpture materials, both direct carving and clay sculpting to be cast in bronze. He believes that the human figure is the single artistic subject to which all viewers inevitably respond. Monumental, miniature or life–size, LeQuire's sculptures manage to achieve a living quality, which contributes to a long-standing career of public commissions and a consistent demand for private collections.
Alan is best known for his colossal sculptures, Athena Parthenos, the largest indoor sculpture in the western hemisphere and Musica, one of the largest bronze figure groups in the world. The Boch Center is very fortunate to have on loan the Cultural Heroes, seven larger-than-life clay sculptures of artists who shaped the soundtrack of the Civil Rights movement: Bessie Smith, Billie Holiday, Lead Belly, Paul Robeson, Woody Guthrie, Marian Anderson, and Josh White.
For more info visit https://alanlequire.com.
LeQuire Gallery & Studio has represented some of Nashville's most popular artists, as well as nationally recognized contemporary painters and sculptors from across the United States. LeQuire believes in the continuum of knowledge passed down through craft, and the life-long quest to create lasting, meaningful work. It is this core belief that dictates the Gallery's business, the projects they accept, and the artists they represent. It is located in Nashville, TN.
Born in Detroit, Don Was grew up listening to Detroit blues, jazz music, and the Rolling Stones. He went on to form the group Was (Not Was) with school friend David Weiss (David Was), noted for their success in the 1980s. Now widely recognized as a record producer, Don Was has worked with artists including Bob Dylan, The Rolling Stones, Bonnie Raitt, Iggy Pop, Ziggy Marley, the B-52s, Elton John, Garth Brooks, Lucinda Williams, Old Crow Medicine Show, John Mayer, Ringo Starr, Willie Nelson, Brian Wilson, Kris Kristofferson, and Aaron Neville. He has earned multiple Grammy Awards including Producer of the Year in 1995. Don Was has served as musical director or consultant on several motion pictures including Thelma and Louise, The Rainmaker, Hope Floats, Phenomenon, Tin Cup, Honeymoon in Vegas, 8 Seconds, Switch, The Freshman, Days of Thunder, Boys on the Side, and Toy Story. He earned a British Academy Award (BAFTA) for Best Original Score in recognition of his compositions for the film Backbeat. In 1997, he directed and produced the documentary I Just Wasn't Made for These Times, about former Beach Boy Brian Wilson. The film debuted at the Sundance Film Festival and won the San Francisco Film Festival's Golden Gate Award. He has been serving as President of the legendary jazz label, Blue Note Records, since January 2012.
The Bruce Springsteen Archives & Center for American Music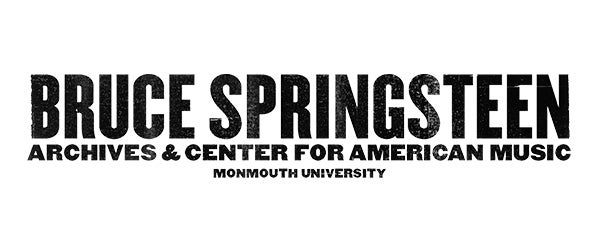 The Bruce Springsteen Archives and Center for American Music at Monmouth University serves as the official archival repository for Bruce Springsteen's written works, photographs, periodicals, and artifacts. The Center preserves and promotes the legacy of Bruce Springsteen and his role in American music, while honoring and celebrating icons of American music like Woody Guthrie, Robert Johnson, Frank Sinatra, Gaslight Anthem and others. The Archives comprise nearly 35,000 items from 47 countries, ranging from articles and concert memorabilia to artifacts and oral histories. The collection serves the research and informational needs of music fans, scholars, authors, and others with a serious interest in the life and career of Bruce Springsteen.